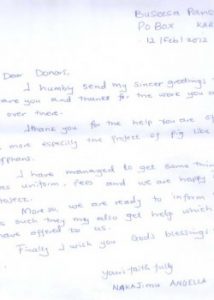 Dear Donors,
I humbly send my sincere greetings to you. How are you and thank for the work you are doing over there.
Thank you for the help you are offering to me more especially the project of the pig like us the orphans.
I have managed to get some things such as a [school] uniform, fees and we are happy about this project.
More so, we are ready to inform other fellows so they may also get help which you have offered to us.
Finally I wish you God's blessings and peace.
Yours faithfully,
Nakajimu Angella
[Buseesa Parish]