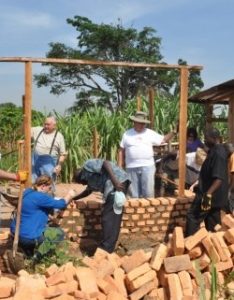 They left unsure about what they would find on their first trip to Africa, Uganda to be exact but their two weeks in Uganda went so fast that they wished they had had more time. The people welcomed them with open arms. We, at Be a Christ to the Poor, Inc. are proud to have had them as partners on this trip.
While on this trip the visitors were able to participate in the construction of the piggery structures at St. John the Baptist parish in Bulindi, Hoima Diocese and contributed generously to the repairs of the Maize Mill At Uganda Martyrs' Parish in Buseesa. We are very grateful to you all. Thanks.
The people who traveled to Uganda were: Bob Bond and his sister Patricia Bond, Jim and Jean Schmidt, Albert and Doris Taber, and Rachelle Williams.