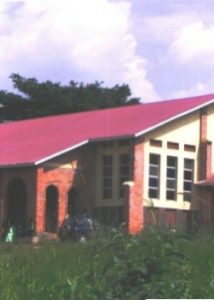 It was a great scene to behold at St. Bruno church in Mitujju, Buseesa parish, Hoima Diocese, Uganda. Hundreds of people welcomed Jim and Jean Schmidt, Beverly Phipps, Raymundo Canchola and Fr. George Ssebadduka when they paid the church a visit. They were accompanied to the site by Fr. Stephen Asiimwe, he pastor of Buseesa parish and Fr. Anthony Bingi, pastor of Bulindi parish near Hoima.
After the Mass and a great Lunch the visitors were entertained to traditional music and dance. They were also were presented with a variety of gifts including a goat for Fr. Stephen and a young bull for Fr. George. The visitors were also given a tour of both the new church, the rectory still under construction, an elementary school and the old church, which is crumbling although still used for meetings. In their speeches, the pastor thanked the visitors for their courage, faith and support. Mr. Jim Schmidt who spoke on behalf of the visitors thanked the people for their faith, their remarkable hospitality and gifts. "we have so many lessons to learn from you, thanks" he said. Fr. George thanked the visitors for their courage and faith. "You could have given in to the fears of the unknown and canceled the trip but you didn't. Thanks." He also thanked the people for coming out in great numbers to welcome the visitors and for all the hard work they do in building up their place of worship. As the visitors bade farewell, tears were flowing down the their cheeks, sad that this experience had to end so quickly. They promised to return, God willing.
Jim and Jean Schmidt and Beverly Phipps are members of Immaculate Conception Church in Richmond, Missouri where Fr. George currently serves as Administrator. Mr. Raymundo Canchola is a member of St. Patrick parish in St. Joseph, Missouri.