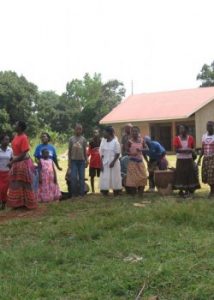 It has been a long time since we reported on the progress of our outreach to girls and women in Hoima Diocese, Uganda. We are most grateful to you all for the support we continue to receive. We hope and pray that God continues to bless and reward you all.
What and how they are doing now?
Irene Musasizi continues to impress at our Lady of Good Counsel secondary School Gayaza. She is a junior and hopes to sit for her "O" Level (High School) exams 2007. Please keep her in your prayers.
Sylivia Nakirunda is doing very well too. She transferred to Our Lady of Good Counsel secondary School from Tender Talent Magnet School. She is currently in Form two (sophomore).
Jacklene Kyomuhendo has made steady progress even though tough conditions at home make it a little difficult to concentrate. She is in sixth grade.
Florence Namuleme graduated 2004 from High school. She did very well but decided to try the job market. She has yet to find a permanent job.
Rose Namalembeko. She graduated 2005 from High School. She is now in Junior College. She is doing very well.
Evelyn N. Katusabe is working very hard. She is in seventh grade. If she performs well at the end of the year (2006) she hopes to join St. Kirigwajjo secondary School (High School) in Karuguuza, Kibaale district, Uganda.
Ruth M. Nanyanzi. Despite the loss of her father and having a very sick mother, Ruth has not given up hope for a better future. Yes her life is unstable and sometimes must stay out of school to care for her mother. With your prayers and support, however, she hopes to succeed. She is in sixth grade.
Bridget Nansubuga finally transferred to a better school. She had to repeat third grade but she believes that this change of school is the beginning of a better future.
Monica Salirwe. She is a senior in High School. She will sit for her "O" level exams this November. She is a very bright student and hopes to join "A" level (Community College) in 2007.
Lillian Nanyanzi. She performed very well at Community College and will join University August 12, 2006. Her Dad is unable to support her and she is need of at least $700 per semester for tuition.
Joan Basemera is doing okay. She is in fifth grade.
Falida (Ellen) Nanyanzi is doing well. She is in seventh grade. If all goes well she hopes to join High School next year, 2007.
Rose Mary Tumuhaise is doing well and hopes to graduate this year from elementary school.
Doreen Nantume is also making steady progress. She is a junior in High School. She would love to become a doctor or lawyer. She needs at least $300 a semester.
Asiimwe Scovia graduated from University in 2005 with an undergraduate degree in Environmental studies. She is still searching for employment.
Juliet Nakai. She died after graduating from college with a degree in Business administration. May her soul rest in peace.
Most of the above named girls still need a lot support. We would also like to increase the number of girls under sponsorship. With your help we can do it.
For more information on the above girls or on how you can get involved, please contact us.